Our adventure in Hawaii has come to an end… After O'ahu, Kaua'i and Maui our last stop was the Island of Hawai'i – also called Big Island. Nomen est omen, Big Island is the largest of all Hawaiian islands. To illustrate its size: This island is larger than ALL other Hawaiian islands combined. So it definitely takes some time to drive from coast to coast. And btw, make sure you rent a 4WD – otherwise you won't make it to most of the attractions from below!
Besides its size, this island offers more superlative attractions:
Kilauea is one of the world's most active volcanoes. In and Around the Volcano National Park, you can see steam clouds in several places. In Pahoa you can see the latest – not yet completely cooled – lava. And the hourly news on radio always contains information about the current magma flow.
Mauna Kea is a dormant volcano and the tallest mountain on earth. Above sea level are only 13,803 feet (4.207 m) visible but when measured from its oceanic base, its is 33,100 feet (10.100 m) high. Its summit can be covered in snow and ice during winter – and is one of the best sites in the world for astronomical observation. Since the creation of an access road in 1964, thirteen telescopes funded by eleven countries have been constructed at the summit. In April 2013, the Thirty Meter Telescope project was approved, and will be the largest telescope ever built.
Mauna Loa on the other side is an active shield volcano and is the largest volcano on earth in terms of volume and area covered.
So here is our map what we did/see during our stay on Big Island. Unfortunately, I need to create a new GoogleMap for Big Island – so you can find our other trips here.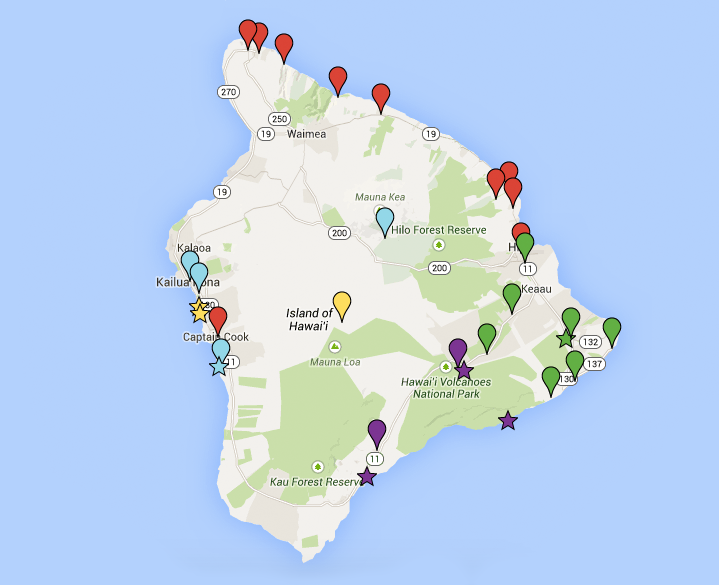 Day 1 (red): Honomu, Akaka Falls, Pepeekeo, Hilo, Honokaa, Waipio Valley, Pololu Valley, Kapaau, Hawi, Captain Cook
Day 2 (blue): Mauna Kea, Kona, Holuala, Pu'uhonua o Honaunau, Honaunau Bay (also known as "Two-steps" since it only takes 2 steps until you find yourself in unbelievable clear blue water – amazing snorkeling destination!)
Day 3 (violet): Punaluu Beach Park (black sand beach and another wonderful snorkeling spot; turtle come here for breading), Pahala, Volcanoes National Park including the Lava-Tube and the Chain of Craters (= road through the National Park with an uncountable amount of old volcano craters)
Day 4 (green): Mountain View, Akatsuka Orchid Garden, Pahao including the (still hot!) lava flow from Nov. 2014, Ahalanui Park (the only warm water snorkeling on Hawaii!), Waipuku Point, Kingdom of Hawaii, Hilo
Day 5 (yellow): Mauna Loa, Kahaluu (another awesome snorkeling spot on Big Island but be aware of very strong currents), Rays on the Bay (fantastic but expensive restaurant and bar in the Sheraton Hotel – always reserve a table with ocean view because then you can watch manta rays after sunset)
To me, Big Island is a must-see and needs to be on everyone's bucket-list – and I definitely will be back! In the meantime we continued our journey so make sure to wear some flowers in your hair for my next post ….