After a great start and three amazing days on our first Hawaiian island O'ahu, we traveled further west to Kaua'i. This island is the forth largest and geographically the oldest of all main Hawaiian. Like every of the Hawaiian islands, Kaua'i has a nickname too – it's called the Garden Island. And since the moment we landed, we understood why: Kaua'i offers such a broad green range as never seen before. From the most beautiful gardens to deep-green valleys, taro fields and tropical jungles – the whole island is covered with plants. Besides, the wettest spot on earth can be found there as well – Mt. Wai'ale'ale.
Kaua'i is also famous for its Na Pali Coast, which is located for more than 26km along the northwest and rise as much as 1.200m above the Pacific Ocean. The whole area is not accessible by car therefore you can only hike there. And that's what we did on our second day, and it was absolutely amazing! We wander the beginning of the Kalalau trail to the Hanakapi'ai Beach, passing some very muddy and slippery passages and also crossing the Hanakapi'ai River. But the views during our trip were stunning and the hike worth every step!
To follow our whole trip, you can use the Google Map I created. Below you will only see the map of Kaua'i including our trips there. And just in case some of my pictures look familiar to you: Several well-known movies were (partly) filmed on Kaua'i including "Pirates of the Caribbean", "The Descendents", "Avatar", "Perfect Getaway", "Tropic Thunder", "Jurassic Park" and many more.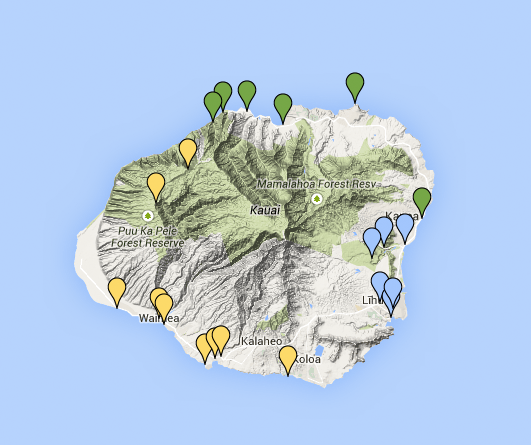 Day 1 (yellow): Waimea Canyon (including several lookouts and 2 short trails), Kekaha Beach, Waimea, Russian Fort Elizabeth, Salt Pond Park, Hanapepe, Elee'e, Spouting Horn (= blowhole)
Day 2 (green): Na Pali Coast (hiking Hanakapi'ai trail to the Hanakapi'ai Beach), Ke'e Beach, Hanalei and Hanalei Beach, Kilauea Point Lighthouse, Kapa'a
Day 3 (blue): Wailua, Opaeka's Fall, Wailua Fall, Lihue, Nawiliwili Bay, Helicopter tour (My FIRST helicopter flight ever! And it was unbelievable – I can highly recommend this experience. We flew along the south-east coast, then across the country to Na Pali Coast, afterwards back to south-east.)
This means two islands already visited, two more to go! We already arrived on Maui today and this island is completely different again. So far, I personally liked Kaua'i more than O'ahu. But this could change very soon…