First of all, Happy new year! This is my first post in 2015 and since one of my resolutions is to experience more adventures, many more are supposed to follow.
On Jan. 1st early in the morning we left Vienna for O'ahu/Hawaii. After several long flights we arrived on the same day shortly before midnight in Honolulu. O'ahu – also known as "The Gathering Place" – is the third largest of the Hawaiian Islands, and home to 72% of the population of this state. The best known cities are Honolulu and Waikiki, and since nearly all hotels on the island can be found there we stayed there too.
We spend 3 wonderful days on this beautiful island and have seen a lot. On the map below you can find the places where we have been and I have also created a Google Map where you can interact a little bit more. Since we rented a car for all days, we drove to all these places by ourselves which is really easy. Driving on O'ahu in general is really smooth since Hawaiian people are always very relaxed and helpful.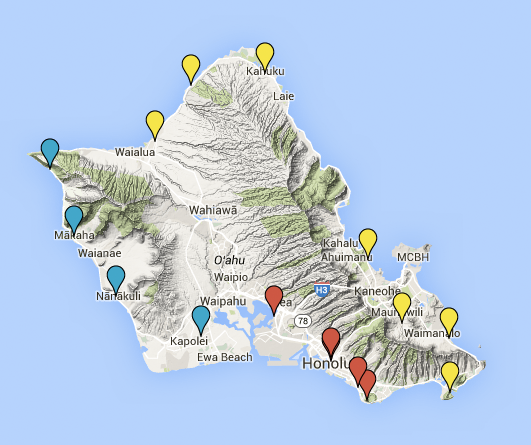 Day 1 (red): Chinatown (markets and temples), Honolulu Downtown, Waikiki, Pearl Harbor (USS Bowfin and museum) and Diamond Head (hiking on a volcano crater)
Day 2 (yellow): Sunrise and Snorkeling in Hanauma Bay, Waimanolo Beach, Maunawili Trail, He'eia State Park, Kahuku (famous for its street food including Hawaiian speciality "Shaved ice"), Sunset Beach and the whole North Shore (famous for its huge waves called "Jaws"), Haleiwa
Day 3 (blue): Ewa Villages, Nanakuli, Makaha, Ka'ena Point.
We already left O'ahu and are now on Kaua'i. So stay tuned for my next post with pictures of Garden Island.