To be honest, when we planned our trip to Hawaii Maui was supposed to be our "relaxing island". When somebody talked about Maui, I always had images of "cheesy tropical" beaches with lots of palm trees in my mind. So we planned to snorkel and surf there more than on the other islands. But that was a huge mistake! Maui was the Hawaiian island which surprised me most so far …
Maui's nickname is "the Valley Island" because the island itself consists of two large shield volcanos with a huge valley in between. And every volcano has also several valleys carved in their flanks – the most famous one is called Iao Valley. The larger volcano in the east is called Haleakala and more than 10.000 feet (3.000 m) high! On an island like Maui this feels three times so high because there you find yourself in a surreal moonscape above the clouds. From up there, you can even see the two summits of the next Hawaiian Island "Big Island" (Mauna Kea and Mauna Loa). The view is simply awesome so I can highly recommend visiting this place!
Another breath-taking experience on Maui is the "Road the Hana" which is a scenic day-trip around the coastline of Haleakala. On every side of the volcano, the landscape differs: from tropical jungle with waterfalls to black sand beaches to dry steppe landscape and back to green forests and even winery regions. One day felt like traveling a whole continent to me. Just in hint: A part of the road (5 miles) after the Ohe'o Gulch is unpaved. So if you really want to make the whole round-trip (and not drive all the way back), you should rent a SUV or similar. Otherwise those miles will be very long and painful…
Like in my previous post, you can look up the places on Google Map too.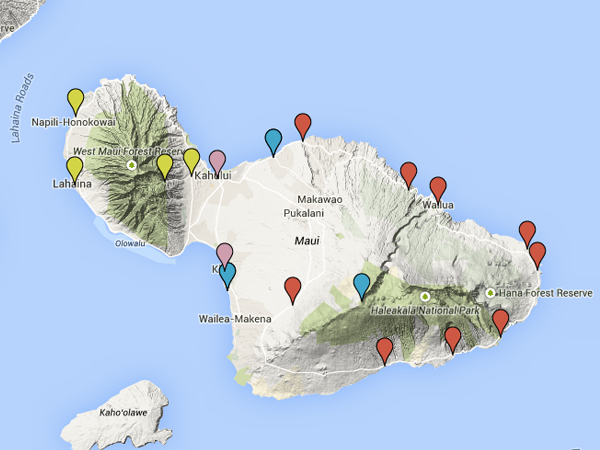 Day 1 (pink): Kahalui, Kihei (snorkeling and swimming)
Day 2 (limegreen): Kihei (surfing class), Iao Valley, Wailuku, Lahaina, Maui Brewing Co.
Day 3 (red): "Road to Hana" with stops in Paia, Maliko Bay (for sunrise and waves), Garden of Eden (beautiful botanical garden), Wailua, Waianapanapa State Park (black sand beach and coves), Hana, Ohe'o Gulch (natural swimming pools including waterfalls!), Mokulau, Pokowai Sea Arch, Keokea
Day 4 (blue): Kihei (surfing again), Haleakala (volcano crater – ), Paia
Our next – and unfortunately last – island will be the Island of Hawaii (Big Island). So more adventures are coming soon!