During the last year, I saw many climbing movies and nearly everyone was about the Yosemite National Park. Therefore, this beautiful valley was an absolute must-see for my stay in California!
We visited the Yosemite National Park on a weekend at the end of February and our journey there was already pretty impressive. We left the big highways as soon as possible and took the smaller roads through the farmlands. At the end of February, California was already in blossom and so we drove along miles and miles of fruit trees covered in white and pink. Such a beautiful view!
Although we had looked for an accommodation already in January, we had to stay outside the park in Mariposa since all lodges, motels, hotels, etc in Yosemite were fully booked. Mariposa is a small town just at the entrance to the Yosemite Valley and from there it took us about 40 minutes to get there.
The Yosemite National Park covers an area of 747,956 acres (3.026,87 km2) and reaches across the western slopes of the Sierra Nevada mountain chain. Over 3.7 million people visit Yosemite each year but most spend the majority of their time in the 7 square miles (18 km2) of Yosemite Valley – an explanation why it can get a little bit crowded. And since the Yosemite Valley has only one entrance, you should be prepared to queue.
Yosemite is a World Heritage Site since 1984 and is internationally recognized for its spectacular granite cliffs, waterfalls, clear streams and giant sequoia groves. Almost 95% of the park is designated wilderness.
As archeology revealed, the Yosemite Valley has been inhabited for nearly 3.000 years by indigenous natives. The California Gold Rush in the mid 19th century dramatically increased travel by European-Americans in this area and caused a competition for resources. In 1855, the first small group of tourists including James Mason Hutchings and artist Thomas Ayres visited the valley. Both were responsible for the earliest publicity about Yosemite and therefore increasing tourism to Yosemite. In 1879, the Wawona Hotel was built and many more followed.
Concerned by the effects of commercial interests, prominent citizens including Galen Clark and Senator John Conness advocated for protection of the area. A park bill was prepared and was signed by President Abraham Lincoln on June 30, 1864, creating the Yosemite Grant. This was the first instance of park land being set aside specifically for preservation and public use by action of the U.S. federal government. Later, John Muir led a successful movement to establish a larger national park encompassing not just the valley, but surrounding mountains and forests as well—paving the way for the United States national park system.
Therefore, 2015 is also a special year – it's the 125 anniversary of Yosemite National Park!
With all this information about its history, I was curious if Yosemite can live up it's reputation. To give you a better a insight what the Yosemite Valley looks like, I took a screenshot of its map (which you can find on the Yosemite Park website as well).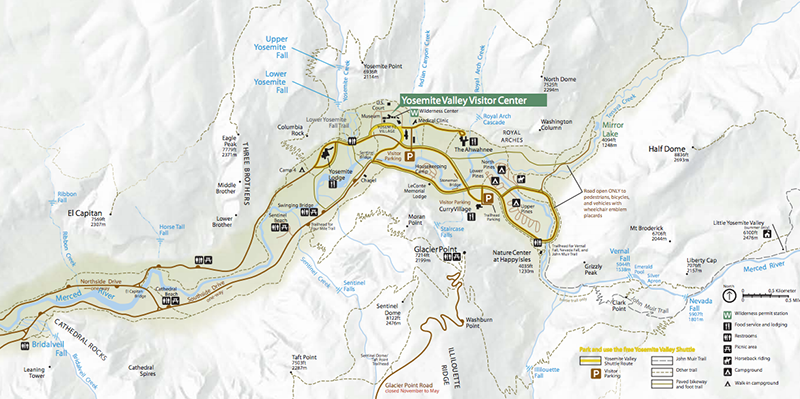 On our first day, we arrived with beautiful sunny weather at the entrance in the early morning (park entrance is further on the left and not shown on this map). Luckily, we were only the 6th car in the queue and could enter the park very quickly. As you can see on the map, most of the roads in Yosemite are only one-way. And just in case you wonder: Yes, you drive through the National Park. There are two huge visitor parking areas from where you could take the free shuttle service but there are also a lot small parking areas next to each attraction.
We started our round trip at the Cathedral Rocks including the Bridalveil Fall, and shortly afterwards the first look at El Capitan – a massive granite monolith and one of the world's favorite challenges for rock climbers and BASE jumpers. Once it was considered to be impossible to climb, and you'll totally understand why as soon as you see it! Today there are numerous established routes on both faces, but the most popular and historically famous route is "The Nose". This route was first climbed in 1958 by Warren Harding, Wayne Merry and George Whitmore in 47 days – currently, the record of speed climbing the "The Nose" belongs to Alex Honnold and Hans Florine with an unbelievable time of 2:23.46 (June 17, 2012).
After this impressive view, we continued our trip and stopped again at the Sentinel Beach including the Swinging Bridge to take a look at the Sentinel Dome. Unfortunately, the road to the Glacier Point is closed in winter so we couldn't take a look over the valley from there. We parked our car next to the Curry Village and continued our tour by foot. We walked along the Upper Pines, took the trail to Mirror Lake and followed it along the Tenaya Creek – always with the Half Dome aside. The Half Dome is possibly Yosemite's most familiar rock formation due to its unique shape. And rock climbing history was there written as well: The first technical ascent was in 1957 via a route pioneered by Royal Robbins, Mike Sherrick, and Jerry Gallwas. Their 5-day epic was the first Grade VI climb in the United States, and their route is today known as the Regular Northwest Face. In 2008, this route was mastered free solo by Alex Honnold within several hours too.
On our second day, we took the trail to the Yosemite Fall – the highest in North America at 2,425-foot (739 m). The Yosemite National Park is also famous for its high concentration of waterfalls in a small area. Numerous sheer drops, glacial steps and hanging valleys in the park provide many places for waterfalls to exist. Especially during the snowmelt season from April to June, it should be even more impressive.
Unfortunately, the weather turned really bad on our second day and it started to snow which meant that snow chains were mandatory. So we left the Yosemite Valley early than expected and took an extended route back to San Francisco and visited some interesting places:
Chinese Camp – an abandoned Gold Rush mining town
Jamestown – formerly also a Gold Rush town, now a California Historical Landmark
Angels Camp – also know as "Frog Town". Mark Twain based his short story "The Celebrated Jumping Frog of Calaveras County" on a story he claimed he heard at the Angels Hotel in 1865. Therefore, a real "Frog Jumping Contest" is taking place each May at the Calaveras County Fairgrounds, just east of the city.
What really gave me some food for thoughts on our way back to San Francisco, was the alarming condition of California's nature. Besides the huge surreal area of the last forest fire in Yosemite National Park, we passed many lakes with very low water surfaces. Like the annual rings of a tree, you could see the water levels from the past years. Sadly, this pictures will continue within the next posts …